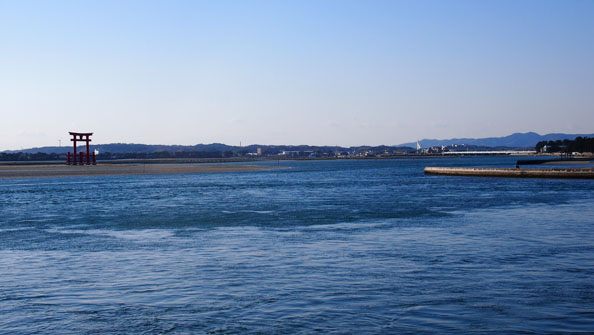 Lake Hamana is located in the western part of Hamamatsu city, and it's the tenth biggest lake in Japan. It is also famous as a saltwater lake whose south end leads to the Pacific. It is said that various fishes and shellfishes, over 800 kinds, are living in this lake because of its ideal environment where nutrients from both sea water and fresh water gather. The fishing industry has flourished around Lake Hamana since old times. Also its water quality is suitable for raising
eels
, seaweeds,
oysters
、, snapping turtles and more. Raising eels has become such a staple that Hamamatsu is now famous for eel, and many eel restaurants can be found in the area.
The oyster shacks
, which open only for the winter season, are visited by many people everyday who want to have delicious oysters.
Enshu-nada, which is connected to the lake, boasts the most young anchovy catches in all of Japan. At "
the Enbai morning market
" which is held from spring to summer, the freshly caught young anchovies are sold and it is crowded with many people every year.
The area where the lake and the Pacific meet is called "Imagire", and Bentenjima is on the north shore of Imagireguchi. The big red torii is built on the lake as a symbol, and the beautiful fantastic scenery during sunset in a special season is a must-see.
Notes/Imagire
Lake Hamana was originally separated from the Pacific Ocean, but the separated part was broken by an earthquake and tsunami in 1498 and connected the two, as it remains today. The place broken at that time is called "Imagire" which means "ima-kireta" (collapsed right now). So travelers had to cross the lake by a ferryboat. South Lake Hamana Sightseeing Cruiser "Imagirenowatashi" course can give you the feeling that you were a traveler at that time in about thirty minutes.
On the west coast, there is
Kanzanji-Onsen
(hot spring) which is a nature-rich sightseeing place surrounded by the lake and mountains. You can enjoy an amusement park, a zoo and botanical garden, museums as well as hot springs and hotels. In summer, you can also enjoy fireworks, and leisure such as
sea bathing
and marine sports. On the north coast, there is Mikkabi-cho which is famous for Mikkabi mikan (orange) and orange picking is very popular.
Also, we recommend riding the
Lake Hamana Sightseeing Cruiser
which goes around the lake. You can see deep green mountains, the earth, and the waving water surface from above the lake, and feel nature through all five senses. It is popular to cycle along the lake and you can rent a bike. You can put the bike on the cruiser so that you can enjoy in various ways.
Notes/Hamanako SA
Hamanako Service Area, which is located between Tokyo and Osaka, is a popular service area on the Tomei highway, and they have a sightseeing cruiser which is the only one to depart from a service area in Japan. The cruiser is season limited and guided by the local fishermen. It's a round tour on the lake for 20 minutes and you can see Mt. Fuji if it's good weather. You can enjoy scenery that you can never see from the ground such as going under the Tomei highway.


The rich nature environment of Lake Hamana developed not only the fishing industry, but also other industries such as fiber, instruments and transportation equipment so that world famous companies like
Toyota, Suzuki, Honda and Yamaha
were born in this area. The production quantity of outboard motors is 63 percent of global shares, as well as the the largest market share of personal water crafts. So at marinas and research/production bases of boats and outboard motors, they do traveling tests on Lake Hamana. That means fishery, agriculture and various industry of Hamamatsu and Lake Hamana have had an inseparable close relationship for a long time.
There are too many sightseeing spots to see in a day in Hamamatsu just only around Lake Hamana. It also has not only sightseeing places, but also a great history. Why don't you enjoy some of the unrivaled scenery, shopping, or leisure activities?
2018.10.17 update
Content may be subject to change after publication. Please also note that we are not accountable for loses and damages that may occur as a result of said changes.